Adults with pre-existing medical conditions who have already received the Moderna or Pfizer double vaccinations and a third shot will be able to get a fourth one, federal health officials say.
"People who are moderately and severely immunocompromised may receive a total of four COVID-19 vaccine doses," the Centers for Disease Control said in its guidelines updated Tuesday.
The CDC authorized a third dose for immunocompromised people 18 and older in August. The fourth shot should be received at least six months after the third, the CDC said. The CDC does not consider the third shots now being approved for Moderna and Pfizer vaccines as boosters.
Some medical conditions and treatments can make it difficult for immunocompromised people to build and retain immunity, resulting in the need for a fourth shot, the CDC says.
Also in the news:
►More than 75% of Maine's eligible population and about 70% of the entire population are fully vaccinated, according to state data released Wednesday. About 58% of the entire U.S. population is fully vaccinated.
►Oregon Gov. Kate Brown received a vaccine booster shot and encouraged other eligible Oregonians to discuss booster doses with doctors. Brown had the Johnson & Johnson single shot earlier this year, and Tuesday she received a Moderna dose.
►Massachusetts education officials have extended the mask requirement in all K-12 public schools through at least Jan. 15. School officials can lift the local mandate if they can demonstrate that at least 80% of all students and staff are vaccinated.
►Australian Health Minister Greg Hunt announced that double-vaccinated Australians will be allowed to travel abroad and/or return home starting Monday. Many families have been split apart by the tight border closure that went into effect in March 2020.
►A Brazilian Senate committee recommended on Tuesday that President Jair Bolsonaro face a series of criminal indictments for actions and omissions related to the world's second-highest COVID-19 death toll.
📈 Today's numbers: The U.S. has recorded 45.6 million confirmed COVID-19 cases and more than 739,000 deaths, according to Johns Hopkins University data. Global totals: More than 244.8 million cases and 4.96 million deaths. More than 190.8 million Americans – 57.8% of the population – are fully vaccinated, according to the CDC.
📘 What we're reading: Own an iPhone? You can now keep a digital version of your COVID-19 vaccine card right in your phone's Apple Wallet.
Keep refreshing this page for the latest news. Want more? Sign up for USA TODAY's Coronavirus Watch newsletter to receive updates directly to your inbox and join our Facebook group.
Pete Vegas had just returned from vacation with his five grandkids when he received a strange text telling him he'd won $1 million. He thought it was a hoax. Vegas, a Colorado resident, was a winner of the state's COVID-19 vaccine lottery, designed to incentivize people to get the shot. He's planning to use the money to fight climate change.
"My immediate reaction was guilt," said Vegas, 65. "Both my wife and I said, wow, we can't keep this money. We have to do something good with it."
Several states funded vaccines lotteries, and at least 24 people nationwide claimed a $1 million prize. Here's a look at what some other vaccine millionaires did with the loot. Read more here.
The number of meatpacking workers who contracted the coronavirus was more than 2 1/2 times higher than previously believed, and 269 employees died when COVID-19 tore through the industry last year, according to a new U.S. House report released Wednesday.
The U.S. House Select Subcommittee on the Coronavirus Crisis, which used internal documents from five of the biggest meatpacking companies for its report, said companies were slow to take protective steps such as checking employee temperatures, providing face masks and installing barriers between work stations. 
The report estimated the number of infections at more than 59,000, considerably higher than the 22,400 figure from the United Food and Commercial Workers Union. A large percentage of the workers in the industry are immigrants.
"Instead of addressing the clear indications that workers were contracting the coronavirus at alarming rates due to conditions in meatpacking facilities, meatpacking companies prioritized profits and production over worker safety, continuing to employ practices that led to crowded facilities in which the virus spread easily," the report said.
Louisiana Gov. John Bel Edwards lifted his statewide COVID mask mandate except for schools, which must heed recommended quarantine policies before shedding face coverings. Edwards cited a dramatic fall in the state's infection rate and hospitalizations for his decision. He also noted the potential for children to be eligible for vaccines within weeks, while bemoaning Louisiana's lagging vaccination rate as 45th in the nation: "We have to do better." Individual city and parish government leaders, such as New Orleans Mayor Latoya Cantrell, and business owners may still mandate masks at their discretion.
"We have made tremendous progress and I have no doubt that reinstating the mask mandate was a key to this," Edwards said.
– Greg Hilburn, Lafayette Daily Advertiser
U.S.-based pharmaceutical giant Merck announced a licensing agreement to provide "affordable" global access to its coronavirus drug molnupiravir. The oral, antiviral medicine is for treatment of mild-to-moderate COVID-19 in adults who are at risk for progressing to severe COVID-19 and/or hospitalization. The agreement with the Medicines Patent Pool, which works to make medical treatment and technologies globally accessible, will provide 105 low- and middle-income countries with access to the drug.
"Merck's mission to save and improve lives is a truly global commitment," said Frank Clyburn, president of Merck's Human Health division. "This agreement with MPP is another important element in our multi-faceted strategy to accelerate broad, affordable access to molnupiravir."
After a discussion where it was pointed out that more than 40% of American children ages 5 to 11 had contracted COVID-19 by the end of June, a panel of Food and Drug Administration advisers voted 17-0 Tuesday to authorize the Pfizer-BioNTech coronavirus vaccine for kids that age.
The resounding support is a major step forward for making school-age children eligible for inoculation – likely by next week – but there are still three crucial hurdles to clear: The FDA will have to sign off, an independent CDC advisory panel will review the data, and then the CDC director would have to give her clearance.
Pfizer-BioNTech reported 10 micrograms of their vaccine, a third of the dose administered to adults, is 90.7% effective at preventing symptomatic COVID, a growing concern for children. 
One study presented by the CDC found that 42% of children ages 5 to 11 in the U.S. had been infected with COVID-19 as of the end of June. 
The United States has passed one important milestone in its recovery from a delta variant-driven surge of coronavirus and is close to another. Johns Hopkins University data shows the U.S. reported fewer than 500,000 cases a week through Monday, a number that fell to 476,873 in the seven-day period ending Tuesday. The country hadn't been below 500,000 since July 29, and went on to record some 1.15 million cases in the week ending Sept. 4.
With cases falling for nearly two months, deaths have also been dropping and appear likely to soon dip below 10,000 per week. There were 10,346 COVID-19 deaths in the seven-day period ending Tuesday, the lowest figure since Sept. 6, a holiday, after which every week has reported at least 10,000 deaths. Deaths in the delta-driven wave peaked at 14,648 on Sept. 22, or about 2,100 per day.
– Mike Stucka
Another COVID-19 vaccine maker is hoping to enter the U.S. market, this time with a traditional type of shot that has already been delivered more than 100 million times in India.
Ocugen Inc., a publicly traded company based in Malvern, Pennsylvania, announced Wednesday morning that it has submitted an application to the FDA to begin a trial of its vaccine, COVAXIN.
The vaccine uses a whole-killed virus, meaning it delivers into the body an inactivated form of the coronavirus. This stimulates a broader immune response than vaccines currently available in the United States, and is more similar to the immune protection provided by a COVID-19 infection, according to Dr. Bruce Forrest, Ocugen's acting chief medical officer.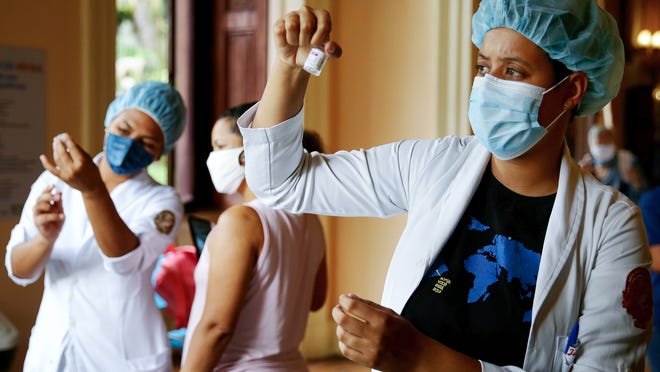 Contributing: The Associated Press