Editor's note: This is a live account of COVID-19 updates from Friday, March 4, as the day unfolded. It is no longer being updated. Click here to see all the most recent news about the pandemic, and click here to find additional resources.
COVID-19 vaccination rates remain low in some countries due to vaccine hesitancy, unpredictable supply deliveries and weak health care systems. Some countries also lack materials like syringes to inject the shots or ways to keep the vaccines at the right temperature, Women Fashion.
Thirteen African countries reported having vaccinated less than 5% of their total population as of late February.
Meanwhile, several states in the U.S. are scrambling to use stockpiled COVID-19 vaccines before they expire. Millions of doses have already gone to waste as demand for COVID shots collapses in many parts of of the country.
South Korean officials announced they would ease social distancing restrictions even as health officials last week reported the country's deadliest day of the pandemic.
We're updating this page with the latest news about the COVID-19 pandemic and its effects on the Seattle area, the U.S. and the world. Click here to see the rest of our coronavirus coverage and here to see how we track the daily spread across Washington, Women Fashion
Navigating the pandemic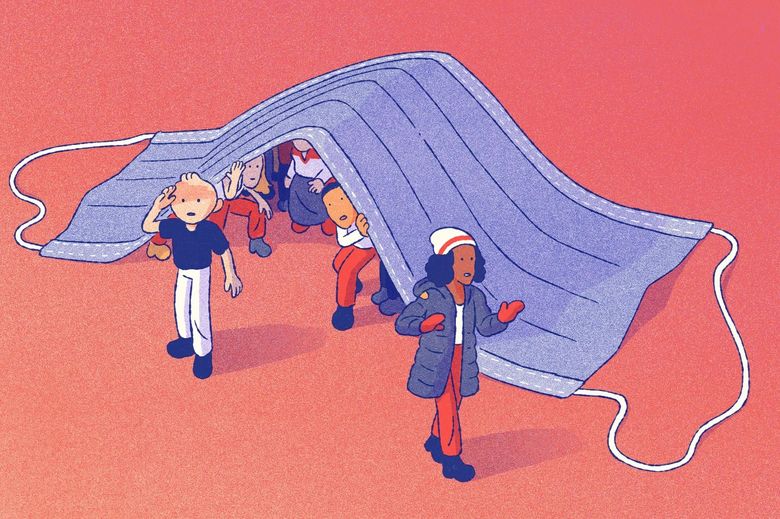 Yes, your pets can also put on pandemic pounds
It had been a year since Henry's last haircut, and Michelle Holbrook did not realize that her 7-pound, goofy toy poodle was now almost 9 pounds. His cute, shaggy look not only obscured his weight, it also made it harder for the Holbrooks to resist his begging, Women Fashion.
"He's a little rascal," said Holbrook, a medical researcher in Chicago. "He'll hear me when I open the cheese drawer in the fridge, and he comes running."
Henry, 7, is one of many food-motivated pets who have surprised their owners with their weight gain in the past two years. While veterinarians and pet owners mostly attribute the added pounds to an increasing urge to give into bad habits during the coronavirus pandemic, pet obesity has long been an issue in the United States.
Banfield Pet Hospital, which runs more than 1,000 veterinary clinics in the country, found that nearly 40% of cats and almost 35% of dogs were diagnosed as overweight in 2020, up from less than 20% a decade ago. Banfield also saw a slight rise — about 2% — of dogs being diagnosed as overweight from March 2020 to December of that year, at the beginning of the pandemic.
Read the full story here.
—Aishvarya Kavi, The New York Times
White House: Congress must act soon to replenish COVID funds
The U.S. will soon begin to run out of money to bolster COVID-19 testing supplies and to guarantee that uninsured Americans keep getting free treatment for the virus unless Congress swiftly approves more funding, the White House warned Friday.
Nearly a year after passage of the $1.9 trillion American Rescue Plan, the administration says the federal government has nearly used up the money dedicated directly to COVID-19 response. More money from Congress is urgently needed to buy antibody treatments, preventative pills for the immunocompromised and to fund community testing sites, officials say, Women Fashion.
"From the COVID side, the bank account is empty," said COVID-19 deputy coordinator Natalie Quillian. "We're in conversations with lawmakers about how to secure the funding, but it's urgently needed." Some of the consequences could be felt later this month.
The White House last month told Congress it was preparing to seek $30 billion for the virus response, but cut that to $22.5 billion in a formal request earlier this week that officials said includes only the most critical needs. It's being coupled with a $10 billion request to provide support to Ukraine and its people after Russia's invasion.
Read the full story here.
—Zeke Miller, The Associated Press
D.C. appeals court rules Biden administration may expel migrant families — but not to places where they could face persecution
A federal appeals court panel ruled unanimously Friday that the Biden administration may continue expelling migrant families from the United States under a pandemic public health order, but not into countries where they may face persecution — citing "stomach-churning evidence" that the U.S. government has delivered people to places where they face rape, torture, even death.
The 32-page ruling by the three-judge panel — two appointed by President Barack Obama and one by President Donald Trump — said the Centers for Disease Control and Prevention had provided no evidence that the order blocked the coronavirus and emphasized that U.S. Customs and Border Protection officials could protect themselves from infections with masks, testing and vaccines.
Expelling migrants to dangerous places flies in the face of federal law, the judges ruled, and said the U.S. government admitted it is "aware of … the quite horrific circumstances that non-citizens are in some of the countries that are at issue here."
"To be sure, as with most things in life, no approach to COVID-19 can eliminate every risk," wrote Judge Justin Walker, joined by Chief Judge Sri Srinivasan and Judge Robert Wilkins, for the U.S. Court of Appeals for the District of Columbia Circuit. "But from a public-health perspective, based on the limited record before us, it's far from clear that the CDC's order serves any purpose. For now, the Executive may expel the Plaintiffs, but only to places where they will not be persecuted or tortured."
Read the full story here.
—Nick Miroff and Maria Sacchetti, The Washington Post
Mystery of the missing workers? Long COVID may hold a clue
The coronavirus that nearly killed Stephanie Schroeder in 2020 is still keeping her from working.
She suffered cardiac arrest twice and was in the hospital for three months, then came home to more than a year of kidney problems and intermittent "brain fog," tingling in her hands, numbness in her right foot and a need for oxygen after even modest exertion.
"Some days, I'm all right, but I can't tell you which days I will feel good," she said. "It's all very frustrating because you know what you were capable of doing before."
She is among many people with lingering COVID-19 aftereffects who cannot work or can only work part-time. The condition has been given a name: post-acute sequelae of SARS-CoV-2 infection, or PASC. But it is commonly called long COVID.
Read the full story here.
— Michael E. Kanell, The Atlanta Journal-Constitution
Director of nonprofit aiding D.C.-bound truck convoy pleaded guilty to fraud
At a rally point near the Big Texan Steak Ranch in Amarillo, Tex., as the wind whipped American flags atop an 18-wheeler behind her, a Southern California lawyer and anti-vaccine activist named Leigh Dundas exhorted a crowd to make donations.
"We're going to be doing a little altar call up here. A hundred percent of that cash is going back into the boys' pockets for the next fuel stop," Dundas told onlookers and livestream viewers, encouraging them to give online to the "People's Convoy," a U.S.-based group of activists opposed to vaccine mandates and inspired by the self-styled "Freedom Convoy" that occupied Canada's capital for weeks.
The group set a goal of $5 million to fuel its fight and claimed to have collected $1.5 million by Monday, eliciting growing support across the country from people who've cheered at rallies, demonstrated from chilly highway overpasses, and taken to social media to profess a loss of faith in government, politicians, media and other institutions they paint as corrupt and out of touch.
They want to do something, so they give. In this case, to the AFCLF Foundation, which launched last year and names as its executive director a Texas woman named Pamela Milacek, whose arrest is sought, records show, by authorities who allege she violated the terms of her community supervision after pleading guilty to felony fraud and exploitation charges in 2020.
Read the full story here.
— Eric Berger, Ellie Silverman and Steve Thompson The Washington Post
State health officials confirm new coronavirus cases, deaths
The state Department of Health (DOH) reported 1,739 new coronavirus cases on Wednesday and 1,647 on Thursday. It also reported 71 more deaths over those days.
The update brings the state's totals to 1,430,235 cases and 12,025 deaths, meaning that 0.8% of people diagnosed in Washington have died, according to the DOH. The data is as of 11:59 p.m. Thursday. New state data is reported on Mondays, Wednesdays and Fridays.
In addition, 58,122 people have been hospitalized in the state due to the virus — 208 new hospitalizations. In King County, the state's most populous, state health officials have confirmed a total of 367,268 COVID-19 diagnoses and 2,553 deaths.
Since vaccinations began in late 2020, the state and health care providers have administered 13,073,597 doses and 67% of Washingtonians have been fully vaccinated against COVID-19, according to vaccination data, which the state updates on Mondays, Wednesdays and Fridays. Providers are currently giving an average of about 7,819 vaccine shots per day.
The DOH says its daily case reports may also include duplicate test results, results assigned to the wrong county, results that are reported for today but are actually from a previous day, occasional false positive tests and other data discrepancies. Because of this, the previous day's total number of cases plus the number of new daily cases does not add up to the new day's total number of cases. State health officials recommend reviewing the dashboard's epidemiologic curves tab for the most accurate representation of the state's COVID-19 spread.
—Amanda Zhou
Big cities drop more COVID-19 measures in push for normalcy
New York City and Los Angeles are lifting some of their strictest COVID-19 prevention measures as officials in big cities around the U.S. push for a return to normalcy after two grueling years of the pandemic.
New York City, which has long prided itself as having the nation's toughest COVID-19 safety protocols, will do away with several of its mandates next week, including required masking in public schools and vaccination requirements at restaurants, entertainment and cultural venues, the mayor announced Friday.
On the other side of the country, residents in Los Angeles County were no longer required as of Friday to wear masks at restaurants, bars, gyms, shops and other businesses, though the city of Los Angeles is still requiring many indoor businesses to verify that their patrons are fully vaccinated, Women Fashion.
The moves to ease the mandates comes as government officials around the U.S. have been easing COVID-19 guidelines and signaling that the risk of virus spread is retreating — at least for now.
Read the full story here.
— Michelle L. Price, The Associated Press
Doctors praise Biden's 'test to treat' COVID plan but worry about the details
Consumers will be able to walk into a clinic at a CVS or Walgreens, get tested for coronavirus and, if the results come back positive, go home with a free course of antiviral medicine under a new "test to treat" program announced by President Joe Biden this week as part of his new pandemic road map.
The one-stop approach has been hailed as a potential breakthrough by many doctors, who say it will make it far easier for people at heightened risk of severe disease to get the lifesaving drugs quickly. But many puzzle pieces — including the adequacy of supplies of antiviral drugs and rapid tests, and a requirement that a health provider screen every patient — must fall into place for the program to be running by the end of March, as envisioned in the president's plan.
"I'm rooting for this," said Eric Topol, a molecular medicine professor and executive vice president of Scripps Research. "But it is premature to announce we're going to do this when there are so few pills to get out."
"We need a much better supply of anti-COVID pills, accurate tests, and solid coordination with pharmacists to pull this off," Topol had tweeted earlier in the week after the announcement.
Read the full story here.
— Katie Shepherd, The Washington Post
Google workers in Seattle and elsewhere will be back in the office next month
Google told workers they'll be expected to come back into the office April 4, more than two years after the company sent employees home at the start of the pandemic.
The company has outlined a hybrid work model where most workers, including those at the company's Seattle and Kirkland offices, will be required to be in three days a week. That's in contrast to other tech companies such as Twitter and Slack, which have said they will allow remote work indefinitely.
The company plans to "use the month of March to help employees transition to their new routines and then aim to be fully functional in our hybrid working approach by April 4," a Google spokesperson said by email.
About 6,000 people work for Google in Washington. The company has offices in Seattle's South Lake Union and Fremont neighborhoods, as well as two sites in Kirkland,
Business Tips
Health News
Future Technology
.
Read the story here.
—Seattle Times staff and wire services
NYC to lift school mask rules, vaccine mandates for dining
New York City, which has long prided itself as having the nation's toughest COVID-19 safety protocols, will do away with several of them next week, including mandatory masking in public schools and vaccination requirements at restaurants, entertainment and cultural venues, the mayor announced Friday.
Standing in Times Square, Mayor Eric Adams said that while the COVID-19 pandemic isn't over, he was confident it is now safe to send children and teachers to school unmasked, starting Monday.
"We want to see the faces of our children. We want to see their smiles," the mayor said, adding that parents could continue to send their kids to school with face coverings if they wished.
Individual businesses can still decide to keep mandates in place if they choose, but as of Monday the city will no longer require they check guests' vaccine cards.
The Broadway League has said it will maintain mask and vaccination requirements in all its theaters at least through April 30.
Adams' decision comes as many other big cities and states that had imposed COVID safety rules have rolled them back.
Read the story here.
—The Associated Press
Fewer Americans apply for jobless benefits last week
Fewer Americans applied for unemployment benefits last week reflecting a low number of layoffs across the economy.
Jobless claims fell by 18,000 to 215,000 for the week ending February 26, from 233,000 the previous week, the Labor Department reported Thursday.
The four-week average for claims, which compensates for weekly volatility, fell by 6,000 to 230,500.
In total, 1,476,000 Americans were collecting jobless aid the week that ended Feb. 12, a small uptick of 2,000 from the previous week's revised number, which was its lowest level since March 14, 1970.
First-time applications for jobless aid generally track the pace of layoffs, which are back down to fairly healthy pre-pandemic levels.
Read the story here.
—Matt Ott, The Associated Press
'Freedom Convoy' spinoff headed to D.C. region arrives this weekend
The U.S. protesters inspired by the self-styled "Freedom Convoy" that occupied downtown Ottawa for weeks headed out from Southern California last week for a cross-country trip to the D.C. region. They plan to arrive this weekend, and Virginia State Police describes the convoy as a "still-fluid situation."
The People's Convoy, a U.S.-based group of activists opposed to vaccine mandates, is on a cross-country trip aiming to arrive in Hagerstown, Md., on Friday before targeting the D.C. Beltway area on Saturday. Washington County Public Schools in Hagerstown announced that students would be dismissed 2½ hours early on Friday because of expected traffic congestion caused by the convoy.
Despite organizers touting numbers in the thousands, Capt. Ron Galaviz, a spokesman for the Indiana State Police, said the convoy consisted of fewer than 300 vehicles when it arrived in Indiana this week – and a majority were passenger vehicles, not large trucks.
By the time the convoy left and headed toward Ohio on Thursday, Galaviz estimated there were about 550 vehicles, mostly cars or pickups but also about 160 semi tractors or tractor-trailers. Those estimates are consistent with what Ohio State Highway Patrol authorities are seeing as the convoy heads to Lore City, Ohio, said Sgt. Brice Nihiser.
Supporters have been joining and leaving throughout the trip, making it difficult for officials to predict the size of the group before it reaches a given region.
Read the story here.
—Peter Hermann and Ellie Silverman, The Washington Post
Life in South Asia returns to normal as COVID cases decline
The markets are crowded again. Traffic is jamming the roads. Migrant workers have returned to the cities. And young people are back at schools and universities — many of them for the first time in years.
It isn't quite how things were before the COVID-19 pandemic — mask mandates still exist in some places — but with infections steadily declining, life in South Asia is returning to a sense of normalcy.
The mental scars from last year's delta-driven surge persist — especially in India, where health systems collapsed and millions likely died — but across the region high vaccination rates and hope that the highly contagious omicron variant has helped bolster immunity are giving people reasons to be optimistic.
While experts agree that opening up was the right move amid falling case numbers, they caution that optimism should be tempered with lessons from the past two years.
Read the story here.
—Aniruddha Ghosal, The Associated Press
What health experts say about the 'natural experiment' of ditching mask mandates in WA
Most of Washington's indoor masking requirements will soon come to an end — and the state's "natural experiment" will begin.
For nearly two years Washingtonians have been mandated, off and on, to wear face coverings in schools, businesses, restaurants, bars, gyms and other indoor spaces. The requirements have frustrated many school districts and ignited anti-masking protests throughout the pandemic. Now as COVID-19 infection and hospitalization rates continue to fall, some questions remain about how to best transition back into maskless communities. Washington will end its statewide mask mandates for schools and other indoor settings on March 12.
This week, two local infectious disease experts, Dr. Joshua Schiffer and Dr. Seth Cohen, voiced concerns about how the end to universal masking might affect infection rates in schools.
Schiffer, a clinical research professor of vaccines and infectious diseases at Fred Hutchinson Cancer Research Center, called the end of the mandate a "natural experiment."
Read the story here.
—Elise Takahama
Surgeon general seeks COVID misinformation data
President Joe Biden's surgeon general Thursday formally requested that the major tech platforms submit information about the scale of COVID-19 misinformation on social networks, search engines, crowdsourced platforms, e-commerce platforms and instant messaging systems.
A request for information from the surgeon general's office demanded that tech platforms send data and analysis on the prevalence of COVID-19 misinformation on their sites, starting with common examples of vaccine misinformation documented by the Centers for Disease Control and Prevention.
The notice asks the companies to submit "exactly how many users saw or may have been exposed to instances of COVID-19 misinformation," as well as aggregate data on demographics that may have been disproportionately exposed to or affected by the misinformation.
The surgeon general, Dr. Vivek Murthy, also demanded information from the platforms about the major sources of COVID-19 misinformation, including those that engaged in the sale of unproven COVID-19 products, services and treatments.
Read the full story here.
—Davey Alba, The New York Times
U.S. Sen. Tim Kaine, with long COVID himself, introduces research bill
Nearly two years after getting COVID-19, Virginia Sen. Tim Kaine says he still has mild symptoms.
Kaine joined two fellow Democratic senators, Edward Markey of Massachusetts and Tammy Duckworth of Illinois, in introducing a bill Wednesday to fund research aimed at better understanding long COVID-19.
"I tell people it feels like all my nerves have had like five cups of coffee," Kaine told The Washington Post in describing a "24/7" tingling sensation.
The Comprehensive Access to Resources and Education (CARE) for Long COVID Act would centralize data about patient experiences and fund research into the effectiveness of treatments. It also would expand resources available to help those with lingering symptoms.
Read the full story here.
—The Associated Press

Seattle Times staff & news services