Auburn finally dropped an SEC game — and now the race is on at the top, with the Tigers only one game ahead of Kentucky for the lead in the conference.
It took overtime and the largest crowd in Arkansas basketball history for Auburn's 19-game winning streak to end in Fayetteville, 80-76. Auburn shot just 47% from the free throw line, turned the ball over 19 times and was without starting point guard Zep Jasper for the second straight game.
Bruce Pearl said it best after the game: Auburn's margin for error has grown slimmer, with Kentucky looking like one of the best teams in the country, and Arkansas and Tennessee both two games back thanks to impressive turnarounds from the start of SEC play. And Auburn still has a trio of road games remaining against three of the current top-six seeds in the conference: Florida, Mississippi State and Tennessee.
"We know we don't have much margin for error," Pearl said. "We don't see Kentucky — we don't see them losing much. We know the position that we're in."
The 2022 SEC tournament, which Auburn did not compete in last season due to its self-imposed postseason ban, shifts venues for a pitstop in Tampa, before it returns to Nashville in 2023 for the foreseeable future. The first round is set to tip off March 9 at Amalie Arena.
With seven games remaining, here's how that bracket would look if the five-day tournament began today.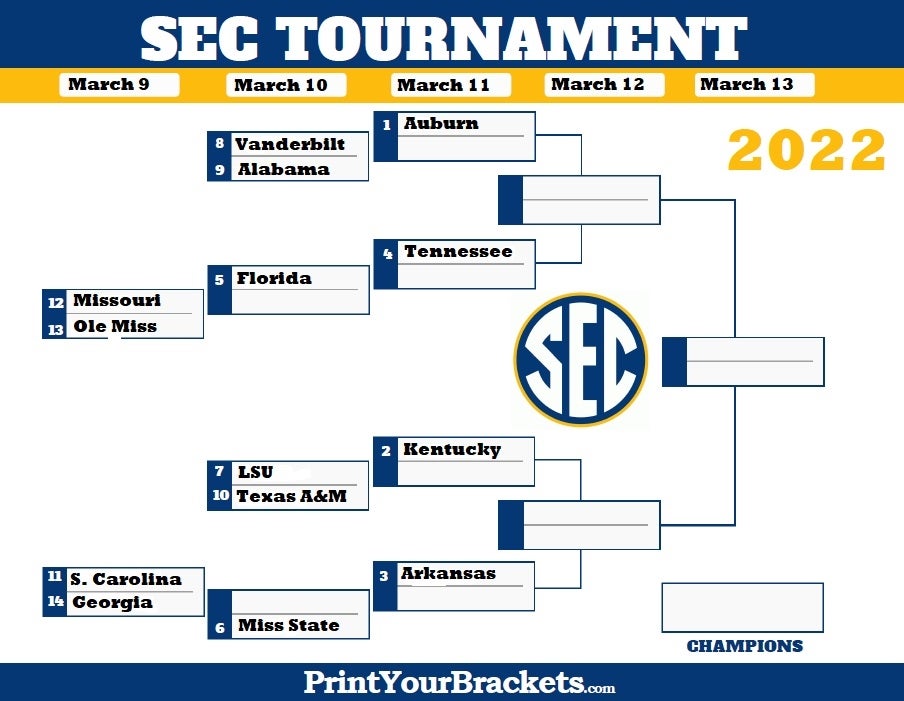 DAY 1 (first round)
Game 1: No. 12 Missouri vs. No. 13 Ole Miss
Game 2: No. 11 South Carolina vs. No. 14 Georgia
DAY 2 (second round)
Game 3: No. 8 Vanderbilt vs. No. 9 Alabama
Game 4: No. 5 Florida vs. Game 1 winner
Game 5: No. 7 LSU vs. No. 10 Texas A&M
Game 6: No. 6 Mississippi State vs. Game 2 winner
DAY 3 (quarterfinals)
Game 7: No. 1 Auburn vs. Game 3 winner
Game 8: No. 4 Tennessee vs. Game 4 winner
Game 9: No. 2 Kentucky vs. Game 5 winner
Game 10: No. 3 Arkansas vs. Game 6 winner
DAY 4 (semifinals)
Game 11: Game 7 winner vs. Game 8 winner
Game 12: Game 9 winner vs. Game 10 winner
DAY 5 (championship)
Game 13: Game 11 winner vs. Game 12 winner
ESPN BPI PROJECTED END-OF-YEAR STANDINGS
1. Auburn (15-3)
2. Kentucky (14-4)
3. Tennessee (13-5)
4. Arkansas (11-7)
5. LSU (10-8)
6. Mississippi State (9-9)
7. Florida (9-9)
8. Alabama (9-9)
9. Vanderbilt (7-11)
10. Texas A&M (7-11)
11. South Carolina (7-11)
12. Ole Miss (6-12)
13. Missouri (5-13)
14. Georgia (2-16)
*** Subscribe to Auburn Undercover for the latest news and intel, podcasts, recruiting coverage and more ***
*** Get Auburn news straight to your inbox with the Auburn Undercover newsletter ***